Meet Dr. Martinez at Chiropractic Advantage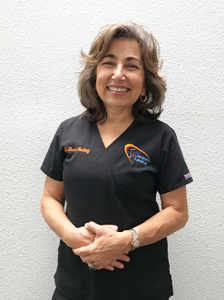 Chiropractic Advantage is located in Rancho Cucamonga, CA on Arrow Route, one block east of Haven. YES, we take insurance plans including Kaiser, Blue Shield, Blue Cross, Aetna, United Healthcare, and Optum.  We offer discounts for fixed-income seniors.
I'm Sharon Martinez, D.C., a female Rancho Cucamonga chiropractor working in a world dominated by the big business of Medicine and Pharmaceuticals. Have you ever wanted to listen to the tiny voice inside your head that questions some of the things your medical doctor wants you to believe? I am that voice! With thirty years of experience, it's my job to thoroughly listen to your concerns, give a great chiropractic adjustment (as only a seasoned chiropractor can), and work with you on lifestyle changes to improve your health. Follow my blog as we explore the great divide between real health and the health care industry. If you'd like a consultation with me, use the "Book Now" button on the bottom of this page, or call us at 909 483-5295.
When she is not caring for patients, you will find Dr. Sharon out in her organic vegetable garden, road cycling, or in a martial arts class.
Our office manager, Melissa Perez, can answer any of your questions about insurance or appointments. Melissa was a patient before she began working at Chiropractic Advantage and brings her whole family here.  Our certified massage therapist is Abe Alpert. He has years of experience in providing therapeutic massage tailored to your case. He'll work in tandem with me to make sure you get the best results possible from your care. Gift certificates and discount packages are available for massage.